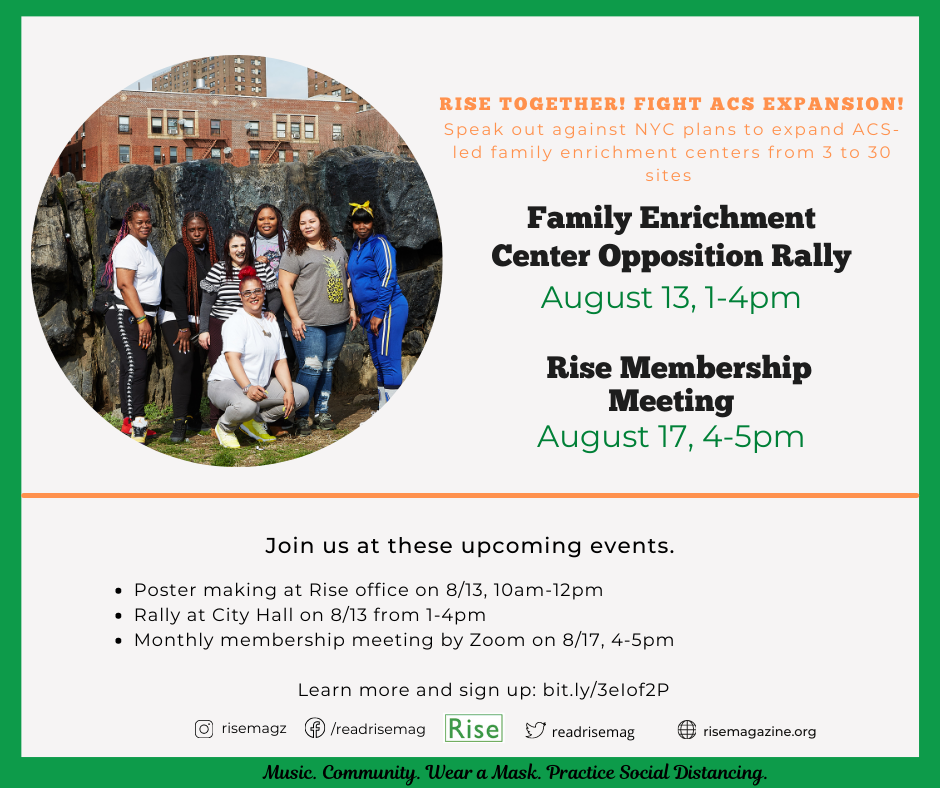 Mayor De Blasio recently announced that NYC will expand its ACS-led family enrichment centers (FECs) from three pilot sites to 30 FECs throughout the city. Parents and allies have voiced concerns that FECs are run by ACS — an agency parents distrust and fear. ACS has the power to separate families and a track record of disproportionately punitive responses to Black families. As parents have documented and research shows, tying resources to service providers associated with the family policing system (ACS) discourages parents from accessing support or being transparent about their real needs. 
We invite you to learn more about this issue, get involved and sign up for updates!
Get Involved
>> Sign up to receive emails with details about the upcoming Rise events listed below. 
Poster-Making Event
Date/Time: August 13, 2021, 10:00 am-12:00 pm
Description: We will create our rally posters together! Art supplies will be provided. Masks are required. This event is for parents impacted by ACS. Please note that we will leave the Rise office at 12:00 to go to the rally.  
Location: Rise office at 224 W. 30th Street, #804, New York, NY
Family Enrichment Center Opposition Rally
Date/Time: August 13, 2021, 1:00-4:00 pm
Description: We will rally to raise awareness about the issue of ACS-led FEC expansion and we will connect and build community. Light refreshments and water will be provided. Masks and social distancing are encouraged. All are welcome to join this event. We hope that parents and families impacted by ACS, community members from neighborhoods where FECs are located/planned, and organizers, activists and allies from intersecting movements will join this rally!
Location: City Hall, New York City Hall, City Hall Park, New York, NY 10007 (fountain area)
Monthly Membership Meeting (Zoom Event)
Date/Time: August 17, 2021, 4:00-5:00 pm
Description: Join the conversation as we follow up on our rally and share information and updates from our Rise community. Please note that the conversation will be recorded. Monthly membership meetings are for parents impacted by ACS.
Location: Sign up to receive an email with a Zoom link to join the online meeting. 
Postcard Campaign
Description: Rise plans to organize a postcard/social media campaign to oppose the expansion of ACS' Family Enrichment Centers. Details coming soon! 
Learn More
Rise Op-Ed
Read the op-ed, Expand Support for Families, But Not Inside the Child Welfare System,by Rise Co-Executive Directors Jeanette Vega and Bianca Shaw. This article was originally published in The Imprint.
Parent Testimony
At a virtual hearing of the NY City Council Committee on General Welfare on 6/14/21, Rise parents testified against FEC expansion:
Communities Impacted by Plans for FEC Expansion
ACS plans to create FECs in the following communities: 
Bronx: Mott Haven/Melrose, Parkchester/Soundview, Fordham/Belmont/East Tremont, Morrisania/Crotona, Kingsbridge, Williamsbridge/Baychester
Brooklyn: East Flatbush, Bedford-Stuyvesant, Bushwick, Coney Island, Sunset Park, Flatbush/Midwood, Flatlands/Canarsie, Brownsville
Manhattan: East Harlem, Central Harlem, LES/Chinatown, Washington Heights/Inwood, Morningside Heights/Hamilton Heights
Queens: Jamaica/Hollis/Queens Village, Elmhurst/Corona, Far Rockaway/Broad Channel, Woodhaven/South Ozone Park, Astoria, Flushing South/Briarwood, Jackson Heights
Staten Island: Stapleton/St. George